In October of 2012 we had some roofing issues which eventually lead to a need for a complete residential roof replacement. Vohcarr Construction was recommended to me by a contractor in our neighborhood, The Ridges, a golf course development near Jonesborough. Victor and Dana Overcash are the owners. We worked with both easily. Victor is also the on-site manager. He basically walked us through the process, patiently and professionally. His crew were respectful, ethical and extremely hard-working, task oriented individuals. Each day, the site was cleared and cleaned prior to them leaving. Attention to detail and quality was a high priority. If a concern arose, they took the "high road" and made it right. We were very satisfied from start to finish. With pleasure I would recommend Vohcarr to anyone having a similar roofing need! You are welcome to contact me if you have questions or concerns.
Respectfully, Rod Glinisty, 159 Black Thorn Dr., Jonesborough, TN 37659
PS: I never found a nail on the perimeter of my home when all was finished! Amazing!
The best team of roofers in the state – excellent work! I know, I had them do our roof after the hailstorm of 2012! Great work. I recommend this group of men. Vic Overcash is a fair and decent man. – Dahk Knox
Thank you, the roof looks great – your crew was efficient and did an excellent job., – Mary Walsh, Kingsport, TN (June, 2014)
I am so thankful to have found you guys! You have been so wonderful to work with. Thank you so much! -Leah Jobe Smith (Nov 2014)
Victor, Thank you for your visit this week, to take care of our roof. We couldn't be happier with your service. The copper roof is excellent, it is aging perfectly, and we look forward to the eventual patina. You do good work, and I appreciate the way you respond quickly to service calls. Anyone with roofing needs should call you. – Ken Maness (August 2014)
Thanks very much, Dana and Victor! We appreciate your work, communication, and responsiveness. – Chris Small (May, 2014)
Thanks so much for your prompt service – Virginia (Cissy) Kite (November 2014)
Thanks for a job well done – June Shelton, Kingsport, TN (December 2014)
Thank you so much. It was a relief to come home today and have my roof repairs done. – Joan LePage (March 2015)
Thanks Dana and Victor. I love the roof and I enjoyed meeting you both…Carolyn Broyles, Erwin, TN (September 2015)
Hi Victor, I work at Rise Up! and was up on the roof with you when you came by to take a look. Thanks so much for helping with our leak. We haven't seen any runs, drips or water at all. It may have been a small fix for you but it was a great source of frustration and a big deal to us. Thanks for taking care of us so well!!! Andy Malcolm, RiseUpForKids.com, 423-863-3085 (January 2016)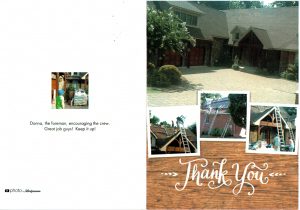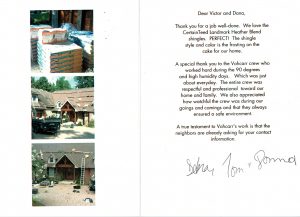 Tom and Debra White, along with Donna Hansen of Johnson City, TN show their appreciation for our work in a personalized card made with photos they took during the process. July 2016.
Thank you for the wonderful job that you did replacing our roof. Your crew was professional and thoroughly cleaned up our yard. I'll recommend you to anyone who needs roof work done. R. Lemons (September 2016)
"Sure appreciate the good work your guys did and how they left the job nice and neat. Means a lot. Thanks so much."- Sue Driscoll (June 2017)
Dana and Victor, Excellent Job! We are very pleased and will recommend you to anyone needing roofing. Thanks, Sue and Ed Driscoll (February, 2018)
Mitch Cox (January 2016)
Your crew did a beautiful job and each one was polite and pleasant. We will certainly recommend you! Many thanks, Jeff & Eve Giesey (December 2018)
It was nice to meet you both! Thank you for the timely response and repair on our roof. We really appreciate it!!
Happy Holidays, Ann + Jim Graeca (December 2018)
Thank you very much for the quick service. I would recommend you all to anyone. Wish I had gone with you all sooner. Thanks again. – Jim Jones
Thanks, Victor and Dana and Kara! It was nice to meet you and thanks for all your help.
Patrick Sloan (January 2019)
We are pleased with the work and also the group who worked here – we would be happy to recommend
you all.
David and Donna Holt (April 2019)
Thank you so much. Great job! Love my solar light. – Sylvia Gabe
Thank you so much for your generosity and your outstanding work on our roof! It's very humbling to accept such generous donations but we really appreciate them so we can continue helping our community. – Susanna Chinouth, Telford Ruritan
Thank you so much for a job completed via phone. I appreciate you all working with me. I'll refer you all to anyone. Thanks so much. – Deborah Frazier
The roof is beautiful and I can't wait til it rains to check it out. All the crew were very nice, respectful and did a great job cleaning up. I would highly recommend your company. They did a great job! – Janet Stastny
It was nice to meet you both! Thank you for the timely response and repair on our roof. We really appreciate it!!! Happy Holidays – Ann & Jim
Thanks for working with me! Glad I chose you to do the work! Regards, Steve Cook
So happy to have found folks we feel very comfortable with here in TN. The roof came out beautiful and you guys went above and beyond. -Joe and Pam